How to Choose Your Family Law Attorney
How to
CHOOSE YOUR FAMILY LAW ATTORNEY
There are many questions you should ask when you meet with a New Jersey family law attorney. Ask about the skill level of the attorney, the plans he or she has for your case, and the attorney's fees. But don't stop there.
7 Questionsto Ask When Hiring a Family Law Attorney
Because the stakes are high in any divorce case, as your children and often a great deal of money are at issue, you need to ensure that the attorney you hire is capable and confident in representing your interests. Here is a list of suggested questions that a competent family law attorney will be able to answer, and how the attorneys at Shane & White, LLC, match up.
1. How many years have you been an attorney practicing family law?
Our firm combines the work of three experienced lawyers. Kenneth A. White, specifically, has practiced exclusively in family law for 23 plus years. We have guided clients through all stages of divorce litigation, as well as other family law matters such as modification of custody, modification of alimony, and other post-judgment issues. We know the New Jersey court system, the reputations of opposing attorneys and judges, and the likely outcomes of your case.
2. How much of your practice is dedicated to family law?
It is important to know how often your lawyer handles family law cases, so you can trust that he or she is current on the latest case law and procedures. Kenneth A. White and Lauren A. Miceli both focus their practices on family law. They have dedicated their careers to this area of the law.
Kenneth A. White is a Certified Matrimonial Attorney and Lauren A. Miceli has experience working in multiple courthouses, all within the family law division. They each have a strong background in family law that benefits their clients immensely.
3. Are you a Certified Matrimonial Attorney?
If you need the help of a doctor to address a serious medical condition, you would likely seek out a Board Certified medical professional. Your potential divorce and family law matter is no less serious or important, and for that reason you should seek the assistance of a Certified Attorney.
Kenneth A. White is a Certified Matrimonial Attorney. Currently, fewer than 3 percent of active New Jersey attorneys hold any type of board certification. Certification requires that the attorney demonstrate a high level of experienc­e, education, knowledge and skill in the area of law, as well as an unblemished reputation. The lawyer has also been positively rated by other attorneys and judges familiar with their work. The lawyer must also pass an additional family law exam.
4. Do you participate in court-sponsored programs or are you regularly appointed to act as mediator by the Courts?
At the request of the court, Mr. White serves as an Early Settlement Panelist in Middlesex County. The Early Settlement Panel combines the work of two attorneys appointed by the court to arbitrate divorce cases on a volunteer basis. Mr. White has served in this capacity on a regular basis since 2001. Additionally, Mr. White has been repeatedly appointed by the Family Court to serve as a Guardian Ad Litem and as a Qualified Matrimonial Mediator for the purpose of helping people resolve family law disputes. Ms. Miceli is also a Qualified Matrimonial Mediator.
5. Have you ever practiced in my county?
Kenneth A. White and Lauren A. Miceli practice family law in the entire state of New Jersey. Those counties in which they most regularly appear are Middlesex County, Union County, Monmouth County, Somerset County, Ocean County, Morris County, Hudson County, and Essex County. Ms. Miceli has experience clerking and interning in the family court divisions of Middlesex County, Burlington County and Passaic County.
6. What is your plan for resolving my case?
During your initial consultation, you should expect Kenneth A. White and Lauren A. Miceli to provide you with a plan to resolve your case. That plan should include a timeline for resolution of your case and a description of the likely outcome. Mr. White and Ms. Miceli will provide guidance based upon the law and the unique facts of your case.
7. If we were to go to trial, what is your trial experience?
It is the intent to Kenneth A. White and Lauren A. Miceli to secure a final resolution of your case by settlement, as almost 99 percent of matters filed with the Court are resolved by way of settlement. However, if a trial is necessary, Kenneth A. White and Lauren A. Miceli regularly and routinely appear before the Court for oral arguments, plenary hearings and trials for both divorce and domestic violence matters.
Highly recommended!
Mr. White did an excellent job in all aspects of my case. Unfortunately, I had dealt with a lawyer previously who left my case in limbo. Mr. White picked up the pieces and through diligent work and good communication with me, I ended up with a favorable settlement and joint custody of my children. Mr. White's prices were fair. I will also say that the people who worked in his office were-. Read More
You've Asked the Questions. Now What?
Before retaining a law firm, take a moment to think about the lawyer's answers to your questions. How comfortable did you feel at the end of the conversation with the attorney? Did you receive direct and responsive answers to these questions? Do you feel at ease with the attorney?
Remember that the initial consultation is as much about you discovering whether the lawyer is a good fit for you as it is the attorney agreeing to take your case. Do not retain a law firm based on a big name alone. It is also important for you to feel comfortable working with the attorney to resolve personal and challenging family law matters.
Read the Retainer Agreement
Depending on the answers you received from the potential attorney, you should continue with requesting information regarding the fee structure used by the firm. All of the below questions should be addressed in the attorney's Retainer Agreement.
How do you structure your fees?
What is your hourly rate?
Are there different rates for different attorneys in the office?
Will other attorneys or paralegals be working on my case?
Will you bill me for additional charges such as photocopies, faxes, mileage for travel? And at what rates?
Will I receive a copy of everything you do, whether you send it to the Court or to the other party?
Do I, as the client, have any obligations under your retainer agreement?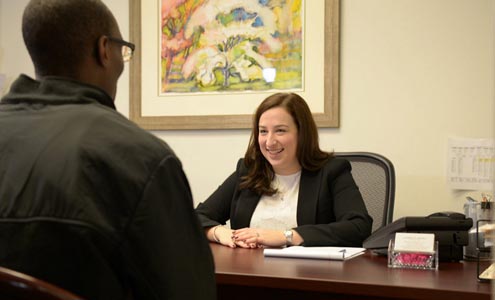 Take your time reading the Retainer Agreement, and read it carefully. It is a contract between you and your attorney. Upon signing the agreement, you will be obligated to pay for the services provided to you. Every attorney should provide you with sufficient time to review the Agreement in the law office or to take the agreement home to review it with friends or relatives prior to signing.

Download the How to Choose Your Family Law Attorney PDF

Call to Schedule an Interview With One of Our Family Lawyers
If you would like to talk with us regarding your family law concerns, please schedule an in-person appointment at a time that is convenient for you. To get started, call our law office at 732-819-9100 or contact us online.

Call Now: 732-819-9100


Contact Us Online

MIDDLESEX COUNTY OFFICE
1676 Route 27
Edison, New Jersey 08817
Telephone: (732) 819-9100
Facsimile: (732) 572-9641
MERCER COUNTY OFFICE
685 Avon Drive
East Windsor, New Jersey 08520
Telephone: (609) 448-1505
Facsimile: (732) 572-9641
ATTORNEYS
Mark S. Shane, Esq.
Kenneth A. White, Esq.
Lauren A. Miceli, Esq.